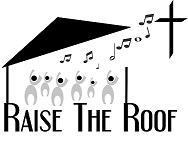 Come out and help us RAISE THE ROOF!
On the first Friday of every month during the school year, we host a praise and worship band and invite youth - and all lovers of music - to come out for a fun time of worship and singing. If you're on facebook - See our Raise the Roof facebook page.
Raise the Roof is back. Join us the first Friday of the month at 7:30 pm.